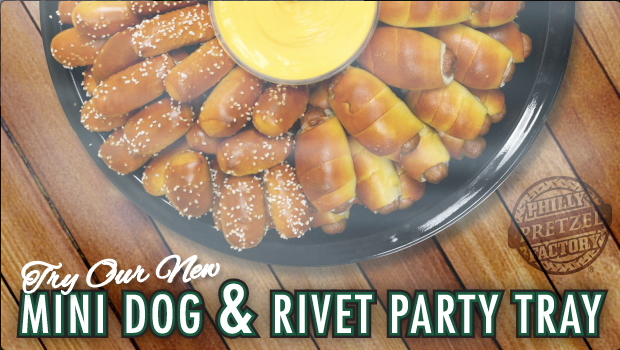 When I first walked into the Philly Pretzel Factory store I was greeted with the wonderful scent of fresh baked pretzels. It smelled so delicious that my mouth started to water.
The only thing separating me from all this goodness was a glass display case.
There were rivets (mini soft pretzel bites), hand twisted soft pretzels, pretzel dogs, pretzel cheese steaks, pepperoni pretzel melts, and cinnamon pretzel twists.
There were so many different items to choose from that it was difficult to decide. So, I got a little bit of everything.
Philly Pretzel factory features a plethora of dips! They include: yellow mustard, honey mustard, spicy brown mustard, cheddar cheese dip, nacho cheese dip, cinnamon dip, philly cream cheese, chocolate dip, buttercream dip and marinara sauce.
How does one choose! I decided to go with my family's traditional favorites this time, yellow mustard, spicy brown mustard and cheddar cheese dip.
Soft hand twisted pretzels
Rivets
Cinnamon twists
Everthing tasted so fresh. The pretzels had the perfect outside shell with a soft, pillowy center. My family really enjoyed all of the items we tried. I couldn't choose a favorite because they were all very good.
For those who like bagged traditional snack pretzels, Philly Pretzel Factory has those too!
I can't wait to go back to the Philly Pretzel Factory Store. Now that I know there are so many options to choose from, I will be visiting a lot more often.
Superbowl is coming up, so I will be sure to order some trays of rivets and mini pretzel dogs for my get together.
To see if there is a Philly Pretzel Factory located in your area, visit:
Here are a few facts about the Philly Pretzel Factory:
The first Philly Pretzel Factory opened its doors in Mayfair, Philadelphia, PA in 1998. The concept was to bake Philly Style soft pretzels all day so that everyone could enjoy a soft pretzel that is served "Hot Outta the Oven" as they walked through the door.
Dan started selling pretzels at the age of 11, when he was successfully selling pretzels on a busy intersection in Philadelphia, and organizing neighborhood kids to work for him in multiple areas of the city.
In 1998, after graduating college, Dan and his college roommate, Len Lehman decided to open the first Philly Pretzel Factory in the Mayfair neighborhood of Northeast Philadelphia. The store was so successful that in the second year, potential franchisees were approaching him to start franchising his concept.
In 2004, he started Soft Pretzel Franchise Systems, Inc., franchising the Philly Pretzel Factory Brand across the Philadelphia region, and now expanding outwards from Philadelphia into 12 states.
ZERO IS A GOOD NUMBER
Our Pretzels contain 0 Fat, 0 Cholesterol & 0 Trans Fat.
You can learn more fun facts by visiting