Welcome to Day 16 of 30 Days of Pumpkin. Today we are going to explore an elegant dish that sounds delicious, Ravioli with Pumpkin Alfredo Recipe.
RAVIOLI WITH PUMPKIN ALFREDO RECIPE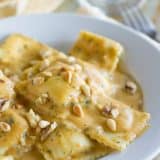 Pumpkin, sage and nutmeg add a warm richness to this Alfredo recipe that is served over ravioli for a comforting and easy fall or winter dinner.
Prep Time:

10 mins

Cook Time:

20 mins

Total Time:

30 mins

Yield:

4 servings
INGREDIENTS
1 package (25 oz) frozen cheese ravioli
3 tablespoons flour
2 cups chicken broth
1 cup milk
2 tablespoons butter
3 cloves garlic, minced
1/2 cup shredded Parmesan cheese
1/2 cup canned pumpkin puree
1/4 cup minced fresh parsley
1 tablespoon minced fresh sage
dash of freshly grated nutmeg
1/4 cup toasted pine nuts
1/4 cup chopped walnuts, toasted
INSTRUCTIONS
Bring a large pot of water to a boil and cook the ravioli according to the package directions. Drain.
Meanwhile, in a large bowl, whisk together the flour, chicken broth and milk.
In a large skillet, melt the butter. Add the garlic and cook until fragrant, 30-60 seconds. Add in the milk mixture, Parmesan cheese, pumpkin puree, parsley, sage and nutmeg. Cook uncovered, stirring occasionally, until thickened, about 10-15 minutes.
Stir the ravioli into the sauce. Serve topped with the pine nuts and walnuts.