Today I have a collection of bonus material and concept art featuring the heroics of Frozone!

Also, we have a fun new Craft Button to download some incredible activity sheets!

INCREDIBLES 2

is now available on Digital HD, Blu-ray 4K Ultra HD™, Blu-ray™, DVD and On-Demand!
LUCIUS BEST (voice of Samuel L. Jackson) is not only Bob's best friend, he's a fellow-former Super who's so chill, he can make ice with the point of a finger. But even when he's not fighting crime as Frozone, Lucius is all about style. He has a quick wit and a cool, can-do attitude—and he wouldn't think twice about breaking out his supersuit if it could help bring Supers out of hiding.
Bonus Clip: Frozone Theme Song
Bonus Clip: Frozone and Honey Deleted Scene
Bonus Clip: Coolest Guy in Show Business
Concept art features design work by Tony Fucile. For more information, be sure to pick up a copy of
The Art of Incredibles 2
, now in stores!
If you're looking for a little fun with the kiddos, we've got you covered! This INCREDIBLES 2 Activity Sheet Kit has everything from games to awesome coloring sheets of the entire Incredibles family. Download them now!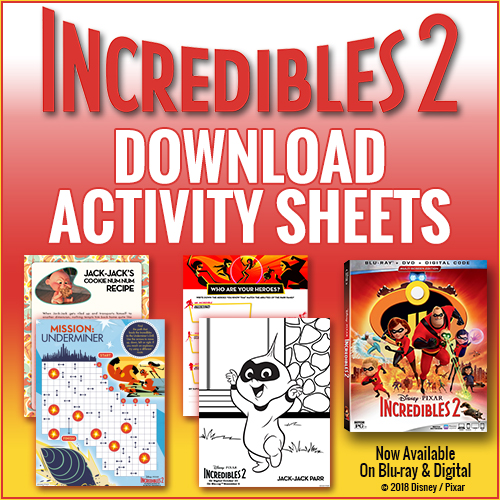 Dash to Get Your Copy of the Most Anticipated Sequel of All Time!
Disney•Pixar's

"Incredibles 2"
Arrives Digitally Oct. 23 and Bursts Onto Blu-ray

Nov. 6
Featuring an all-new mini-movie starring Edna Mode, alternate scenes, never-before-revealed details about the making of the film, featurettes highlighting Pixar's genius artists, and much, much more
Disclosure: I am posting this as a member of Team Click.