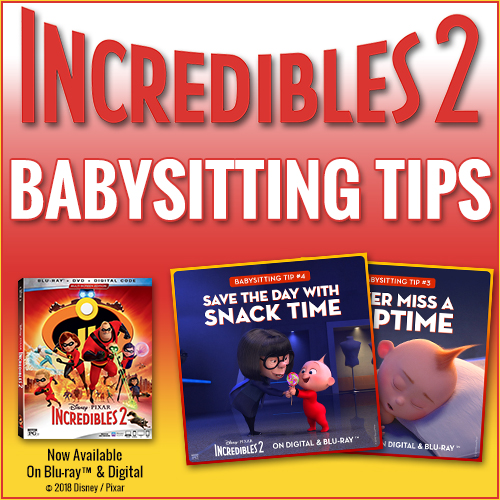 Whether it's Jack Jack or your own little one, we know that kids can sometimes be quite the handful. That's why we've put together a few special babysitting tips for you. Good luck! You can check them out right here:
http://bit.ly/Incredibles2BabysittingTips
WINSTON DEAVOR
(voice of Bob Odenkirk) leads a world-class telecommunications company alongside his genius sister, Evelyn. Ultra-wealthy, savvy and suave, Winston goes big in everything he does—including his infatuation with Supers. He has been a supporter of Supers returning—all he needs is a hero (or three) to help him change public perception and bring them back into the sunlight.
EVELYN DEAVOR
(voice of Catherine Keener), the brilliant brainchild behind her brother Winston's telecommunications company, knows her way around tech. She loves tinkering with tech, and has never met a problem she can't solve. When Helen is recruited to help the Deavors bring back Supers, she and Evelyn become fast friends—exchanging ideas, creating strategies and sharing a lot of laughs along the way.
THE UNDERMINER
is a greedy villain who hopes to tunnel through the city in an effort to steal everyone's money from under their noses. Considering the destructive device he's employed to pull off his mission—it'll take a hero (or five) to stop him.
"WANNABE" SUPERS
are a group of second-rate Supers who aspire to join the ranks of the Incredibles, Frozone and other popular heroes. They team up with the Deavors to help bring Supers back.
·
VOYD is a young, overeager mega-fan of Elastigirl. Her super power is the ability to divert and manipulate objects around her by creating voids that allow the objects to appear and disappear. Sophia Bush lends her voice to Voyd.
·
BRICK
is super tough with mega muscles and a fearless spirit that showcases her strong name.
·
REFLUX is a senior who has the unsettling super power of heaving hot lava, which helps him break into some of the most secure locales.
·
It's mind over matter for KRUSHAUER who has the power of telekinesis. This guy can crush a car without even laying a hand on it.
·
SCREECH sports big owl-like eyes and a head that rotates 360 degrees. He can fly, thanks to a pair of wings he made to complete his look, but his real power is a high-pitched screech that can break glass.
·
HE-LECTRIX can shoot lightning bolts from his fingertips. He's high voltage, so it's best to steer clear.
Dash to Get Your Copy of the Most Anticipated Sequel of All Time!
Disney•Pixar's

"Incredibles 2"
Arrives Digitally Oct. 23 and Bursts Onto Blu-ray

Nov. 6
Featuring an all-new mini-movie starring Edna Mode, alternate scenes, never-before-revealed details about the making of the film, featurettes highlighting Pixar's genius artists, and much, much more