DreamWorks The Epic Tales of Captain Underpants Season Two
is now available on Netflix
! Your favorite tighty whities-wearing hero is back for more action and we have three hilarious clips and
special
Valentine's day downloadable activit
ies and printables to
share with you!
From Peabody Award and Emmy-winning executive producer Peter Hastings, the Annie nominated series is based on the epic novels by Dav Pilkey that have sold more than 80 million copies worldwide.
The awesome main cast includes the voice of Sean Astin (Lord of the Rings, Stranger Things) as the series' narrator, Nat Faxon (Ben and Kate, Married) as Captain Underpants/Mr. Krupp, Jay Gragnani (Bubble Guppies) as George Beard and Ramone Hamilton (Will & Grace) as Harold Hutchins.

This season George and Harold must try to keep their grades up in order to go to summer camp, but with Principal Krupp sent away will they come out on top in a school run by Melvin and a Cyborg Melvin from the future? Follow our favorite pranksters in this epic new season available exclusively on Netflix. Below please find the trailer, clips, activities and additional stills.
In celebration of Valentine's Day next week, below are some fun printable Valentine's Day cards from Captain Underpants himself and other DreamWorks favorites!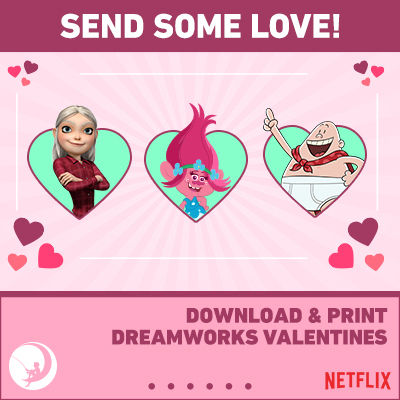 Download Free Valentines Here:
Check out the Official Trailer!
Mission Improbable
George and Harold send Captain Underpants on a secret mission to steal the Suck-a-trash 2000! But the Captain has trouble remembering some very important parts of the plan...
Chattin Pants
George and Harold reminisce at some highlights of Season 1 with the help of a late-nite show host!
Hive School
Turns out bee stings make Captain Underpants SUPER PUFFY! So when George and Harold need his help fighting off a zombie bee hive, they are in big puffy trouble!
About DreamWorks Animation Television:
DreamWorks Animation Television is one of the world's leading producers of high-quality, animated family programming, reaching consumers in more than 190 countries. Creating a diverse array of original content in a variety of formats and delivering deep, fully immersive worlds served up with compelling characters, the prolific studio has garnered 22 Emmy
Ⓡ
Awards since inception in 2013 and is home to such beloved series as Trollhunters, Spirit Riding Free, Trolls: The Beat Goes On!, The Boss Baby: Back in Business, Voltron Legendary Defender, Home Adventures with Tip & Oh, Harvey Street Kids, Dragons Race to the Edge, All Hail King Julien and The Adventures of Puss in Boots. DreamWorks is a division of the Universal Filmed Entertainment Group within NBCUniversal, a subsidiary of Comcast Corporation.