JOJO SIWA D.R.E.A.M.
The Concert Experience DVD is available now!
All Siwanatorz know that bows make everything better! That's why we're happy to share these bow-themed craft and recipe sheets with you in celebration of JoJo Siwa D.R.E.A.M.: The Concert Experience, available on DVD now!

Simply print out the sheets below to create sparkling hair extensions (complete with a signature JoJo bow!) and bake some delicious doggy treats inspired by JoJo's best friend BowBow!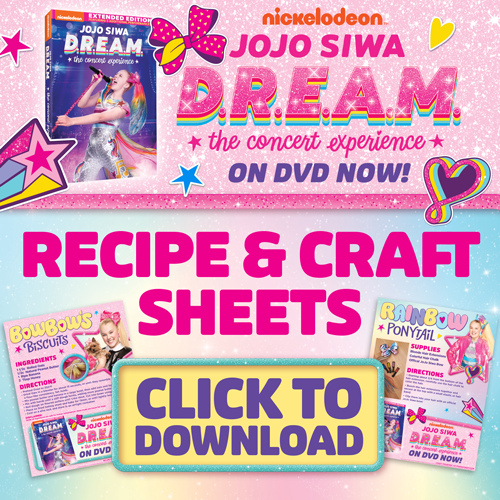 NICKELODEON'S JOJO SIWA BRINGS THE D.R.E.A.M. TOUR TO HER HOMETOWN WITH AN EXTENDED EDITION FEATURING BEHIND-THE-SCENES FOOTAGE AND SURPRISES


JOJO SIWA:
D.R.E.A.M. THE CONCERT EXPERIENCE
It's bow time! JoJo's bringing the D.R.E.A.M. tour to her hometown of Omaha, Nebraska, and she's giving you a front-row seat in this exclusive extended edition of her concert special! Including never-before-seen footage only available on this new DVD, JoJo Siwa: D.R.E.A.M. The Concert Experiencearrives February 11, 2020 and features JoJo taking her tour to Dreamland. Packed with behind-the-scenes footage, a ride on JoJo's tour bus, and more, the JoJo Siwa: D.R.E.A.M. The Concert Experience DVD will be available from Paramount Home Entertainment and Nickelodeon Home Entertainment for $13.99.

JoJo Siwa: D.R.E.A.M. The Concert Experience episodes:
JoJo's D.R.E.A.M. Concert
JoJo's Follow Your D.R.E.A.M.

JoJo Siwa: D.R.E.A.M. The Concert Experience special features:
JoJo's Livin' the D.R.E.A.M.
Meet JoJo's Tour Dancers
Tour JoJo Siwa's Dressing Room
JoJo Siwa's Challenge Showdown, Sound Check & More!
JoJo Siwa Shows Us Her Tour Bus
JoJo Siwa Plays 7 Second Challenge & More!
EPIC Finish That JoJo Lyric Challenge!
JoJo Siwa's Tour Taste Test w/ Cricket Bites & More!
JoJo Siwa: D.R.E.A.M. The Concert Experience
fast facts:
Street Date: February 11, 2020
Catalog:
59209644000
(US);
59210141000
(CAN)
Running Time: 1 hour, 18 minutes
Audio: Dolby Digital English 5.1
US M.S.R.P.: $13.99
CN M.S.R.P.: $15.99
About Nickelodeon
Nickelodeon, now in its 40
th
year, is the number-one entertainment brand for kids. It has built a diverse, global business by putting kids first in everything it does. The brand includes television programming and production in the United States and around the world, plus consumer products, digital, location-based experiences, publishing and feature films. For more information or artwork, visit
http://www.nickpress.com
. Nickelodeon and all related titles, characters and logos are trademarks of Viacom Inc. (NASDAQ: VIA, VIAB).
About Paramount Home Entertainment
Paramount Home Entertainment (PHE) is part of Paramount Pictures Corporation (PPC), a global producer and distributor of filmed entertainment. PPC is a unit of ViacomCBS (NASDAQ: VIAC; VIACA), a leading content company with prominent and respected film, television and digital entertainment brands. The PHE division oversees PPC's home entertainment and transactional digital distribution activities worldwide. The division is responsible for the sales, marketing and distribution of home entertainment content on behalf of Paramount Pictures, Paramount Animation, Paramount Television, Paramount Players, MTV, Nickelodeon, Comedy Central and CBS and applicable licensing and servicing of certain DreamWorks Animation titles. PHE additionally manages global licensing of studio content and transactional distribution across worldwide digital distribution platforms including online, mobile and portable devices and emerging technologies.
###