Tabby's Pantry Elmo's World free in exchange for an honest review all opinions are her own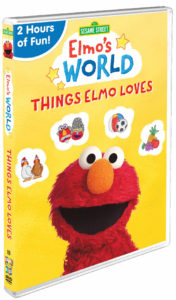 Yaaa it's Elmo. I don't think I know anyone who has not loved Elmo. He has always been the house favorite and now we get our own Emo's World dvd.
Los Angeles – What do elephants, drawing, grandparents, and chickens have in common? They're all things Elmo loves! Everyone's favorite furry red monster stars in Sesame Street – Elmo's World: Things Elmo Loves, available on DVD and digital download on February 2, 2021 from Shout Kids and Sesame Workshop. The release is packed with episodes from Sesame Street's beloved Elmo's World segment, each exploring a different topic to spark kids' curiosity. Also included -- the full-length feature Elmo Loves You!, with celebrity appearances from Trisha Yearwood, John Legend and R.E.M.
This Giveaway is open to the U.S Only. 2 winners will get their very own copy . Prize will be shipped by sponsor Elmo's World